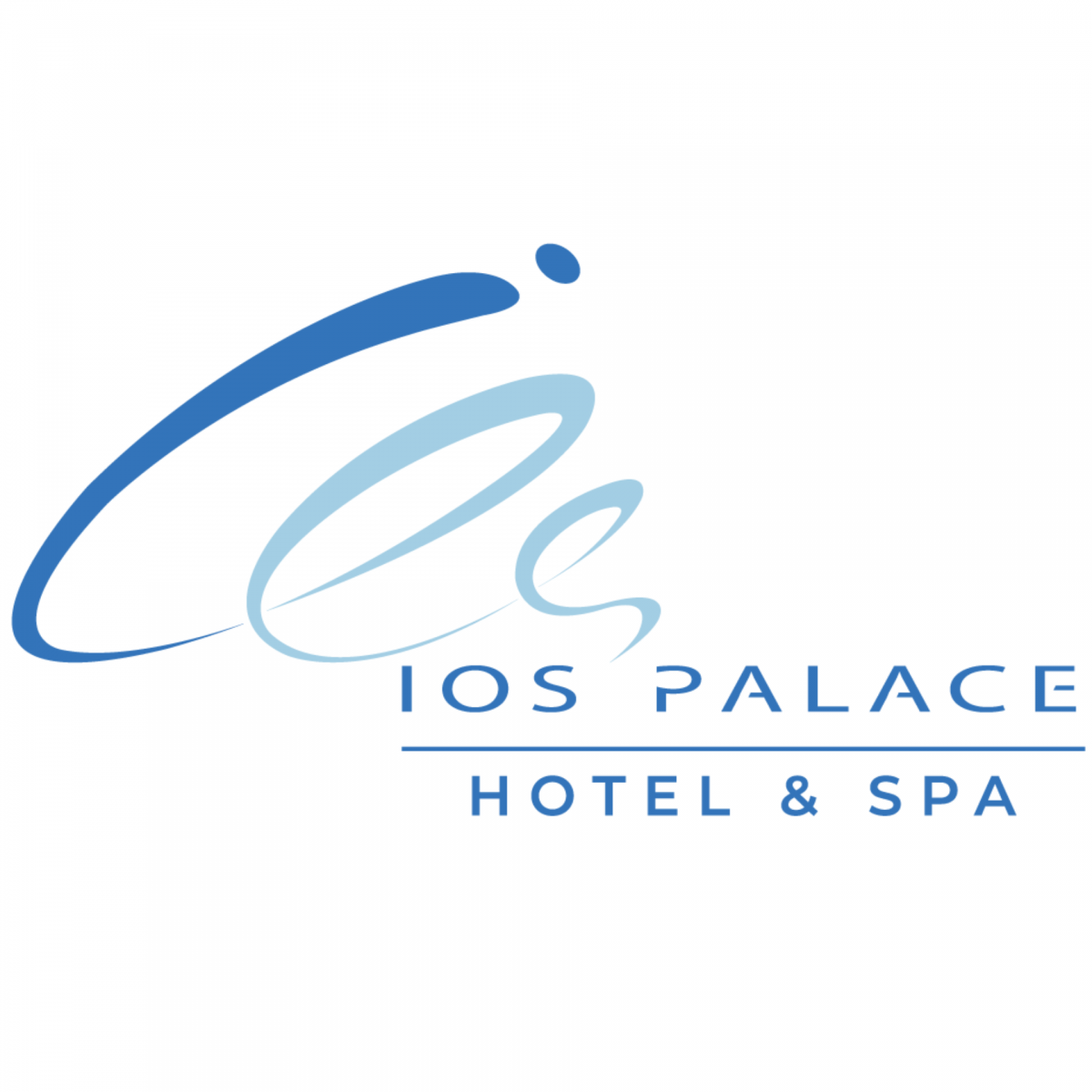 IOS PALACE HOTEL & SPA
MYLOPOTAS, IOS ISLAND
84001, GREECE
+30 22860 92000
[javascript protected email address]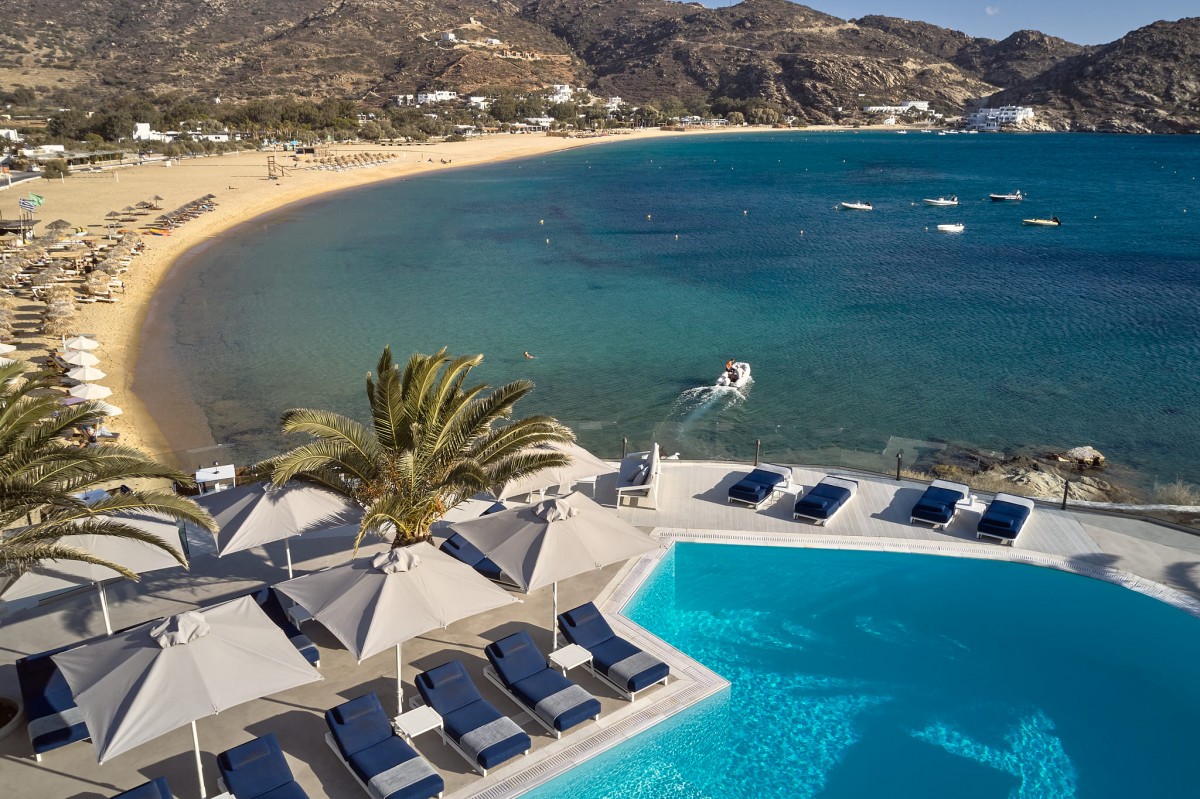 THE OVERVIEW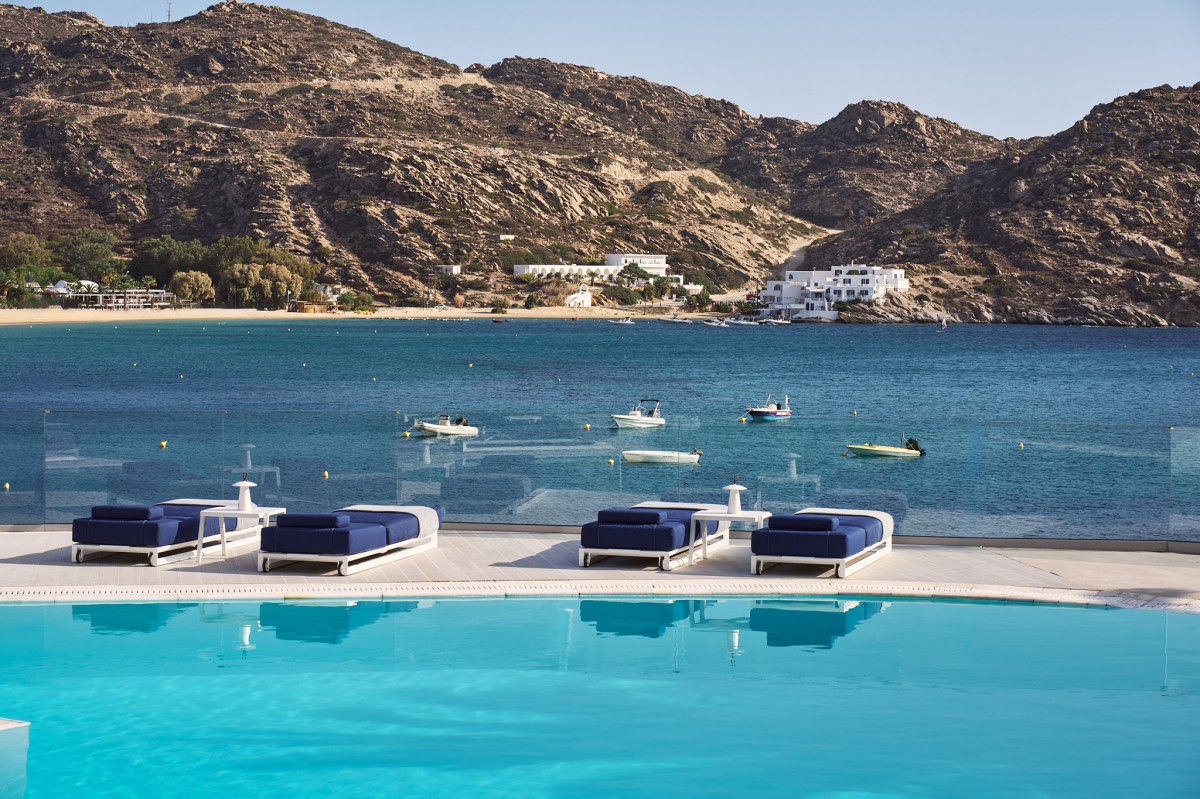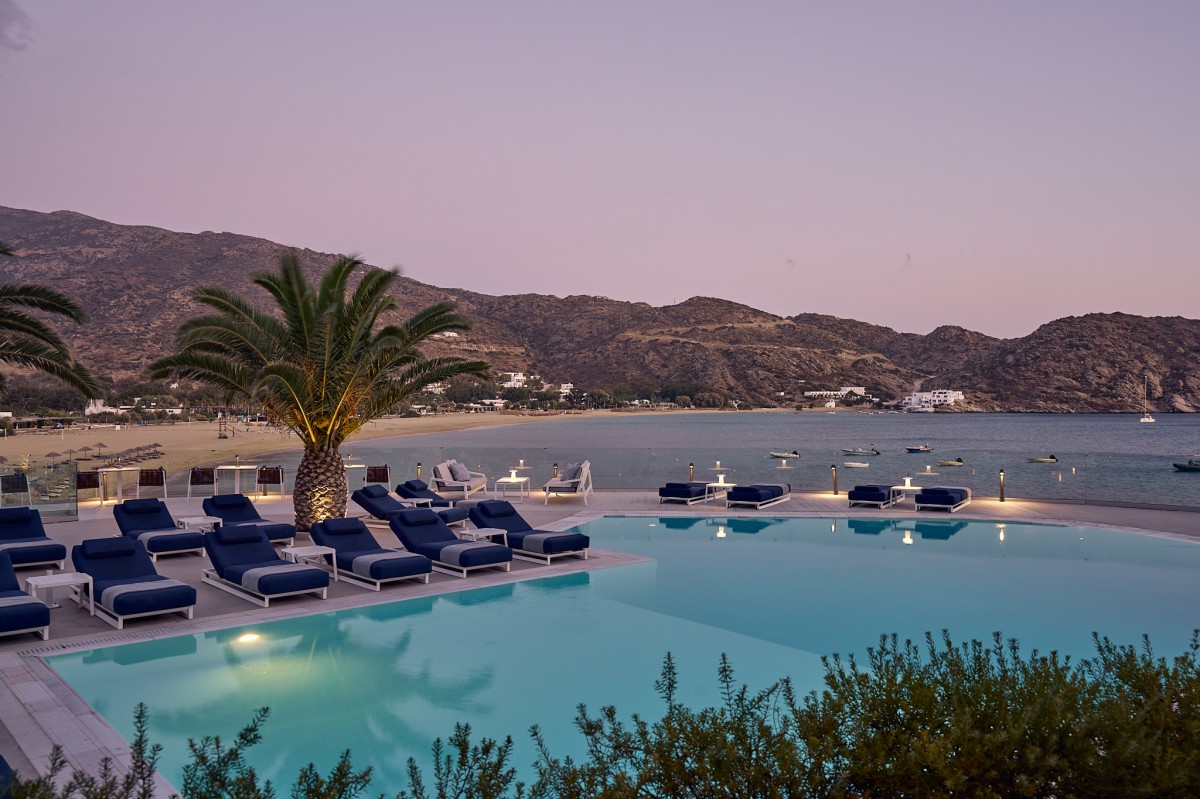 Ios Palace Hotel & Spa is the epitome of Cycladic beauty condensed in a bright white microcosm at the edge of Mylopotas bay on Ios island. Open your eyes wide and drift away for a brief flight over the golden, sandy beach. You are surrounded by impressive, hip, elegant designs in perfect harmony with luxurious details and exclusive services.
Ios Palace Hotel & Spa is considered to be the best choice for those who are seeking hospitality in an amazing Cycladic island, with views of the Aegean's blue in every direction, with one of the best beaches of the Mediterranean at their feet and a picturesque Cycladic town at walking distance. 60 rooms & suites distinguished for their minimal decoration, three swimming pool areas, an atmospheric spa center and a gym operated by Holmes Place, a BBQ restaurant serving mouthwatering tastes and an impressive pool bar, create the scenery for the summer of your dreams.
Room Categories:
7 Double Rooms Side Sea View  (16-18 m²)

19 Classic Rooms Sea View  (23 m²)

17 Superior Rooms Sea View  (24 m²)

6 Junior Suites Sea View  (30 m²)

6 Deluxe Suites Sea View (40 m²)

2 Family Suites Sea View  (45 m²)

2 Family Suites  Sea View with Private Swimming Pool Sea View (60 m²)

1 Master Suite with Private Swimming Pool Sea View (75 m²)
HOTEL FACILITIES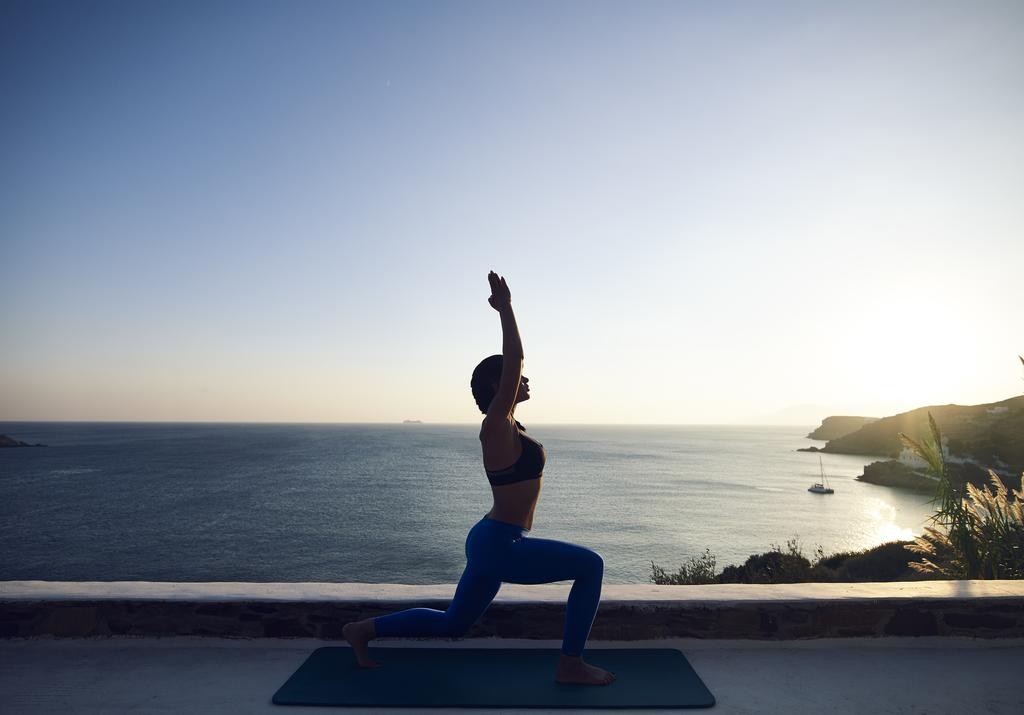 Three swimming pools

Wellness & Spa

Gym

Restaurant & 

Pool Bar

Water Sports

Guest transfer service from/to the port

Room service

Buffet breakfast
24 hours front office

Guest relations concierge

Daily housekeeping service

Free of charge wi-fi

Laundry service

Newspaper upon request

Baby sitting upon request

Doctor on call

Pet friendly
DESTINATION & ACCESSIBILITY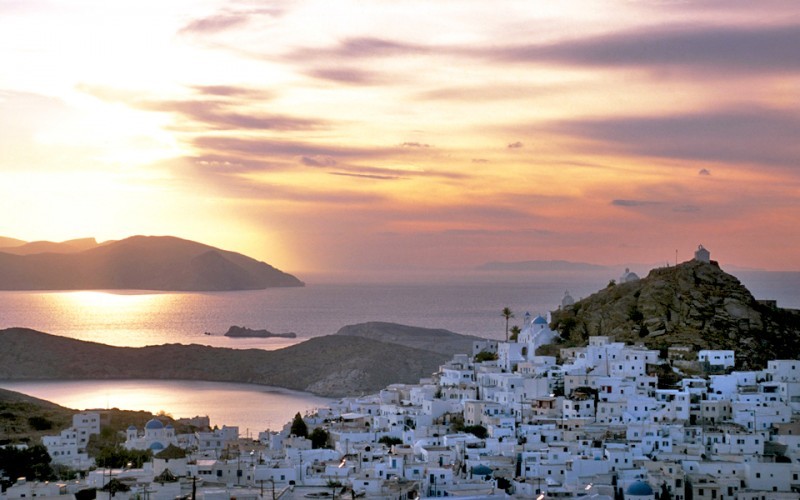 Ios Destination
During the day, Ios island is the absolute Cycladic paradise. People escape the summer heat at the golden beaches, where they take a dip in the crystal clear Aegean waters. When the sun goes down, the bars and restaurants of Ios Chora come alive! The crowds start peeling themselves away from the scenic beaches, to get lost in the wild Ios party scene until next morning. Famous for its ancient history as well, Ios is said to be the island of Homer, as, according to legend, the great poet of ancient Greek history took his last breath there and was buried in the area of Plakoto. Turquoise crystal-clear waters, white sands, cosmopolitan vibes and adventurous water sports form the scenery of Mylopotas, the most famous and beautiful beach on the island of Ios.
Amphitheatrically built above the breathtaking beach of Mylopotas, one of the best beaches in the Mediterranean, Ios Palace Hotel & Spa is your ideal beachfront hotel in Ios. The awarded beach, famous for its crystal clear waters and golden sand, offers the possibility for endless hours of fun and relaxation. Also, the beach is located within only a few minute walk from the vibrant main town of the island, famous for the variety of restaurants, bars, shops and night clubs it offers.
 
HOW TO GET THERE
 Distances to Ios from main Greek ports
From PIRAEUS (ATHENS) to IOS: 3 hours & 25 min. with speed boat
From SANTORINI to IOS: 35 min. with speed boat
From MYKONOS to IOS: 1 hour & 50 min. with speed boat
From PAROS to IOS: 55 min. with speed boat
From NAXOS to IOS: 45 min. with speed boat
From HERACLION (CRETE) to IOS: 2 hours & 30 min. with speed boat
Hotel Accessibility
Ios Port 3.9 km
Paros National Airport 35.9 km
Santorini International Airport 38.4 km
Mylopotas Beach 30 m
Ios Chora 1.5 km 

Taxi service available from /to port

Find us via Google Maps
ACCOMMODATION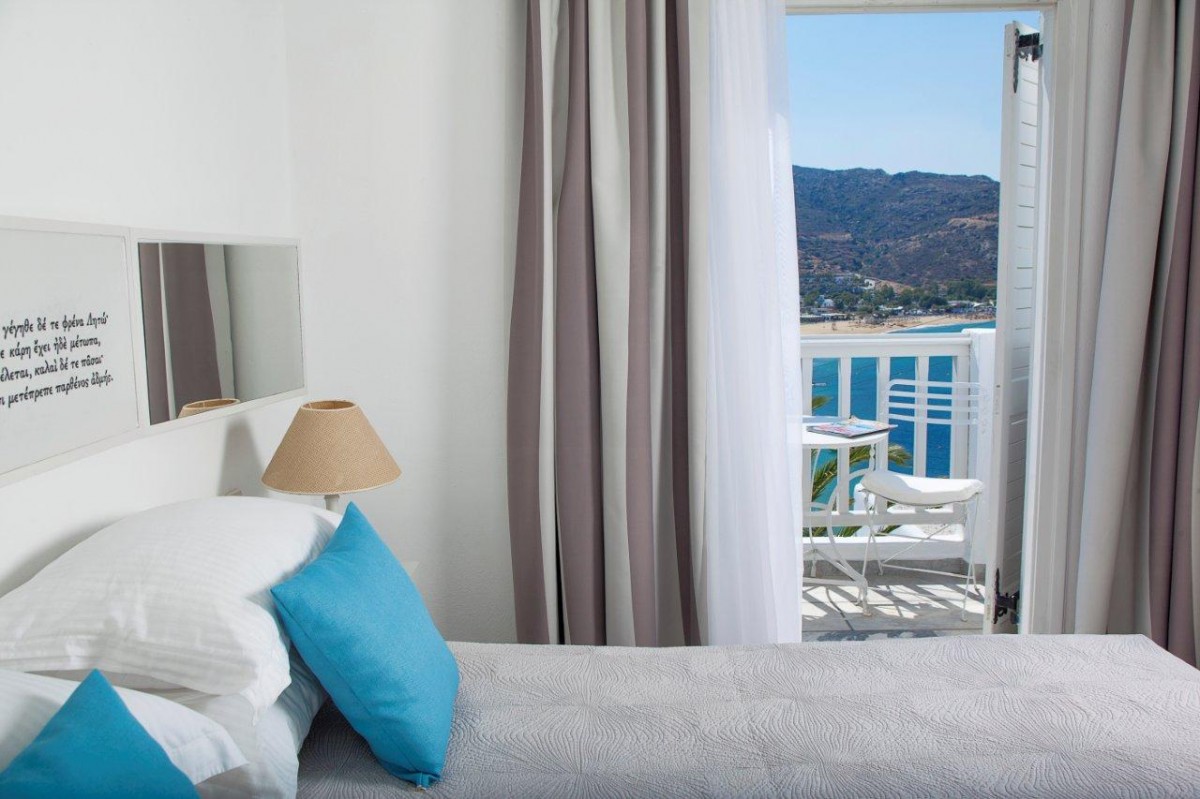 Interior: 16-18 m² 
Beds: 1 Double or Twin Bed
Room Capacity:  up to 2 guests
Situated on the upper level of the hotel and offering side sea view to the bright blue of the sandy beach of Mylopotas, Double Rooms are your perfect starting point from which you can explore the beauties of Ios. White in abundance is only interrupted by splashes of Aegean colours, making you feel totally connected to the island lifestyle. Also, the lyrics of Homer covering your rooms' walls make you come closer to the local culture. Double Rooms constitute of one double or twin beds, one bathroom with shower cabin and a balcony with restricted sea view.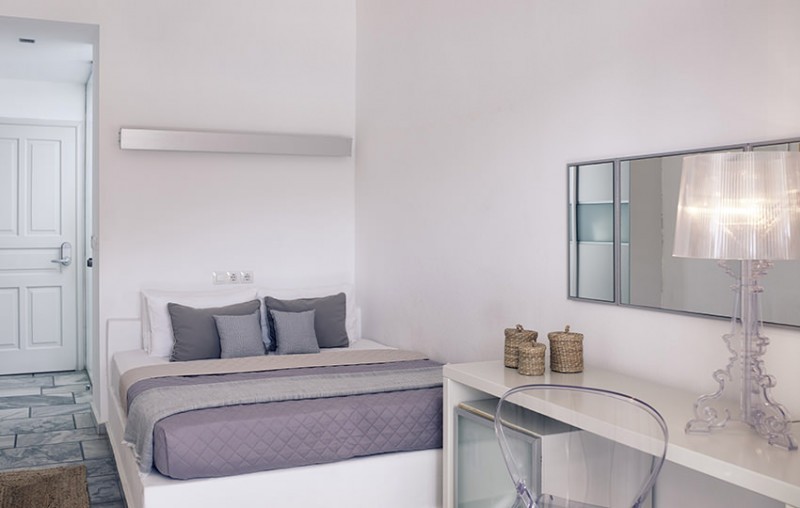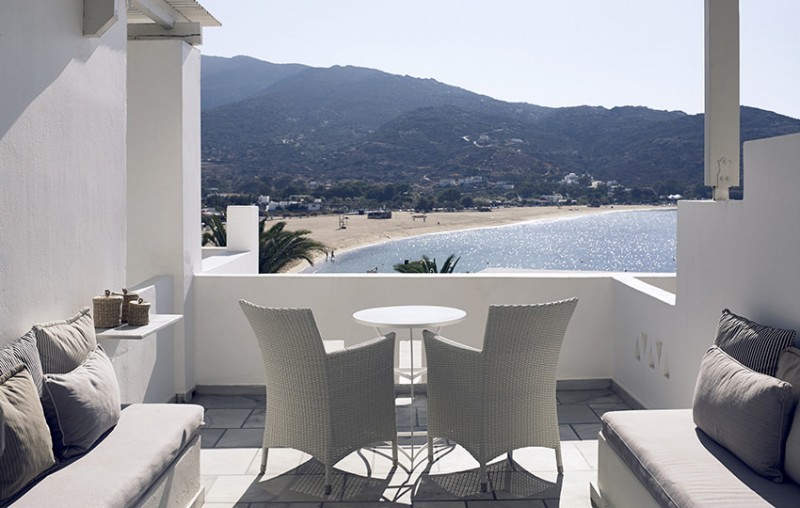 Interior: 23 m² 
Beds: 1 Double or Twin Bed
Room Capacity:  up to 3 guests
Standard rooms are located in the main building of the complex, stretching over the first two floors and with easy access to the main swimming pool. Abundant white in perfect marriage with pale palettes lead you to the inner peace and tranquility that you chose to come here for.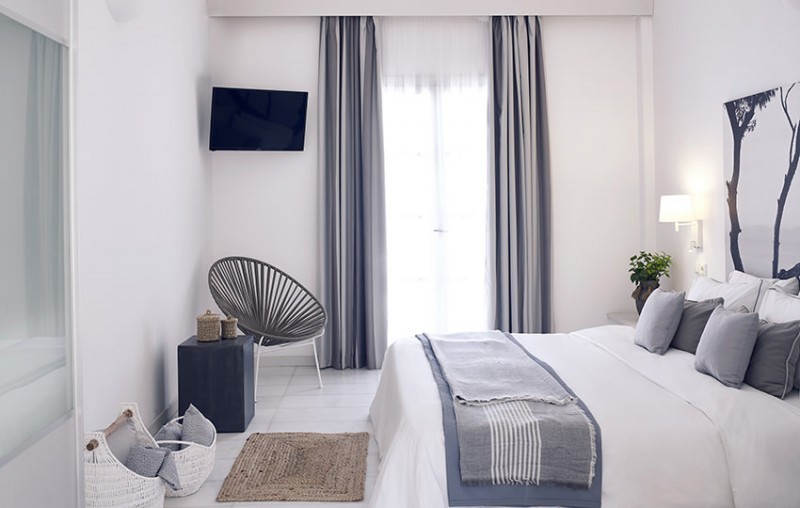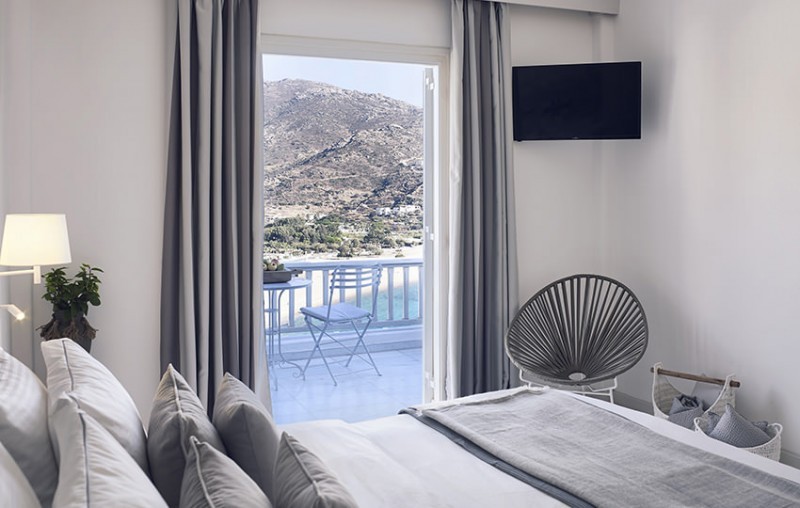 Interior: 24 m² 
Beds: 1 Double or Twin bed
Room Capacity:  up to 2 guests
Renovated in 2017, Superior rooms are located at the highest level of the complex and have an easy access to the second largest swimming pool. Their decors and furniture preserve the aesthetics of Cycladic architecture and are bound to fulfill your love for luxury and comfort.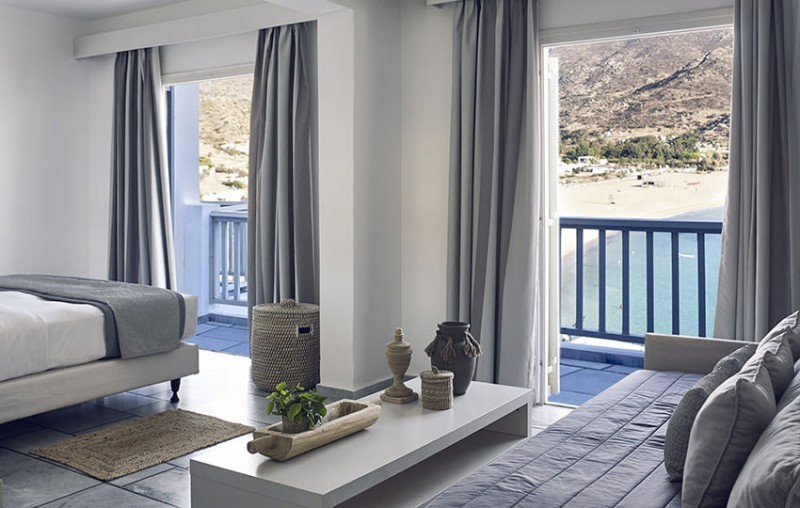 Interior: 30 m² 
Beds: 1 Double or Twin Bed & 1 Sofa Bed
Room Capacity: up to 3 guests
Junior Suites at Ios Palace Hotel & Spa constitute little treasures of minimal designs and spacious interiors, strongly resembling to a Cycladic home miniature. Walls are covered in Homer's lyrics whose connection to the island of Ios is unbreakable.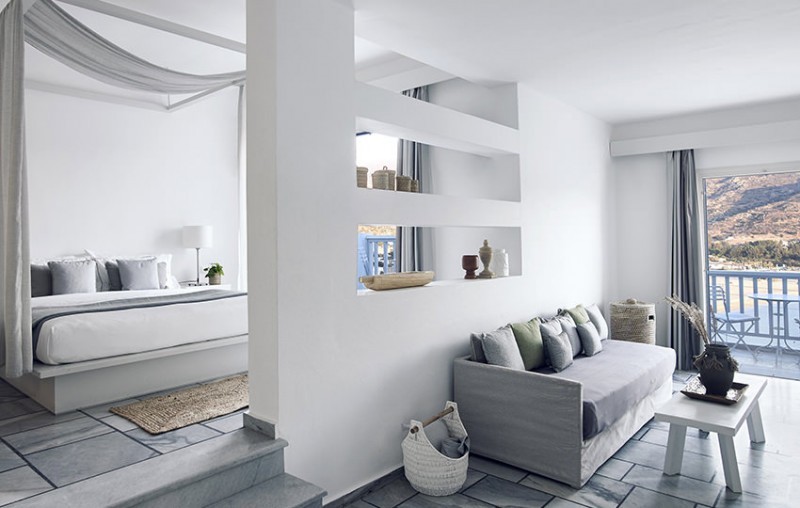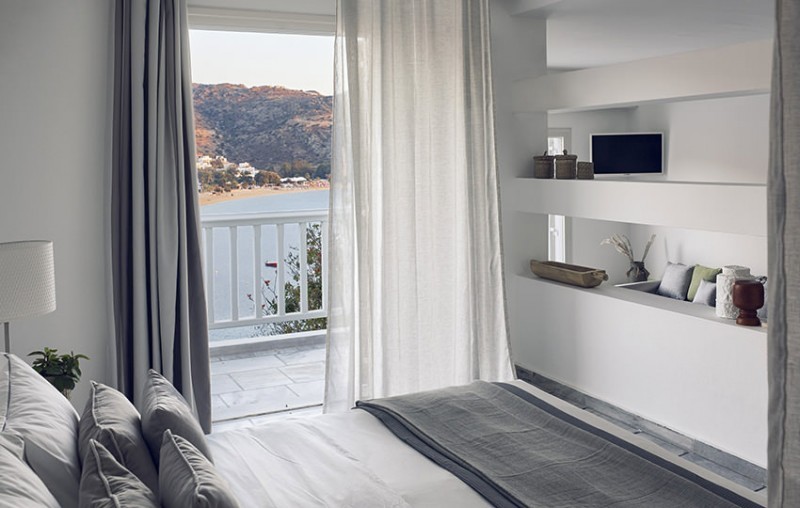 Interior: 40 m² 
Beds: 1 Double & 2 Sofa Beds
Room Capacity:  up to 4 guests
Each and every Deluxe Suite proposes a different set of styles and colours and is an ideal choice for a family or a group of four persons. Privacy, unique characteristics in their decor and indescribable views are presented in affluence, making it hard for the guest to decide where to spend most of the time...in its rich interiors or the magic of the private veranda?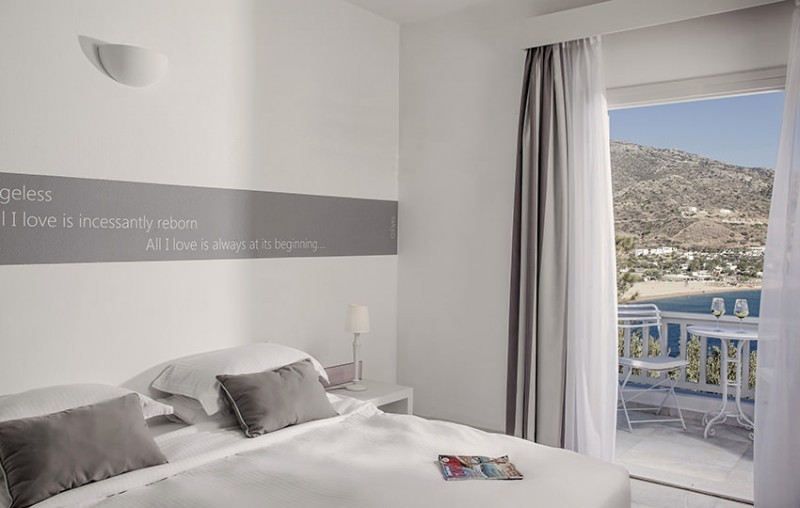 Interior: 45 m² 
Beds: 2 Interconnected Bedroom areas - 1 Double Bed & 2 Twin Beds
Room Capacity: up to 4 guests
Families are gladly welcomed at Ios Palace Hotel & Spa and there are, actually, designated Family suites to meet their particular needs.This type of suite consists of two separate special bedroom areas which are interconnected.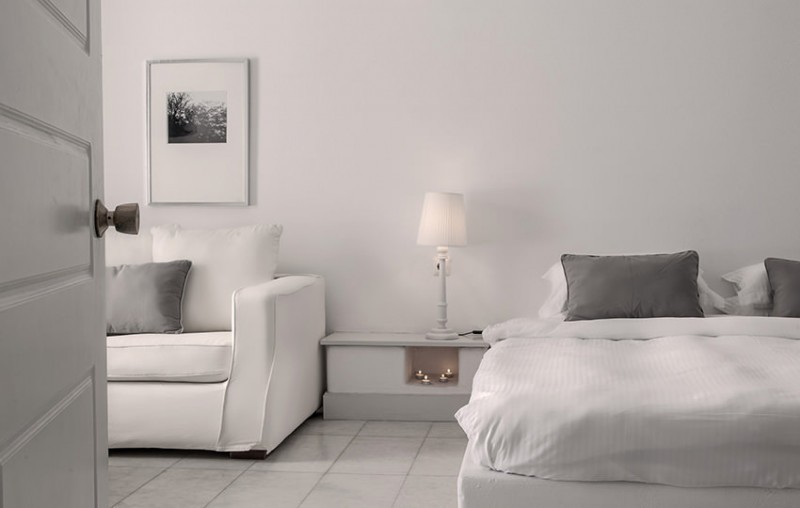 Interior: 60 m² 
Beds: 2 Interconnected Bedroom areas - 2 Double Beds
Room Capacity: up to 4 guests
The recently renovated in 2017 Superior suites are located at the upper floors of the complex hence their view is the best. Lose track of time as you relax at your private veranda in the comfort of your own outdoor swimming pool and sun-beds with views to the blue of the sky and the sea.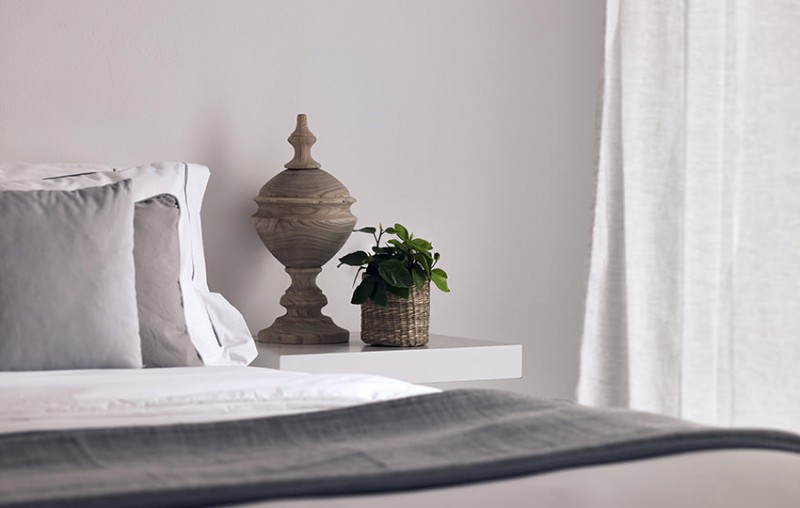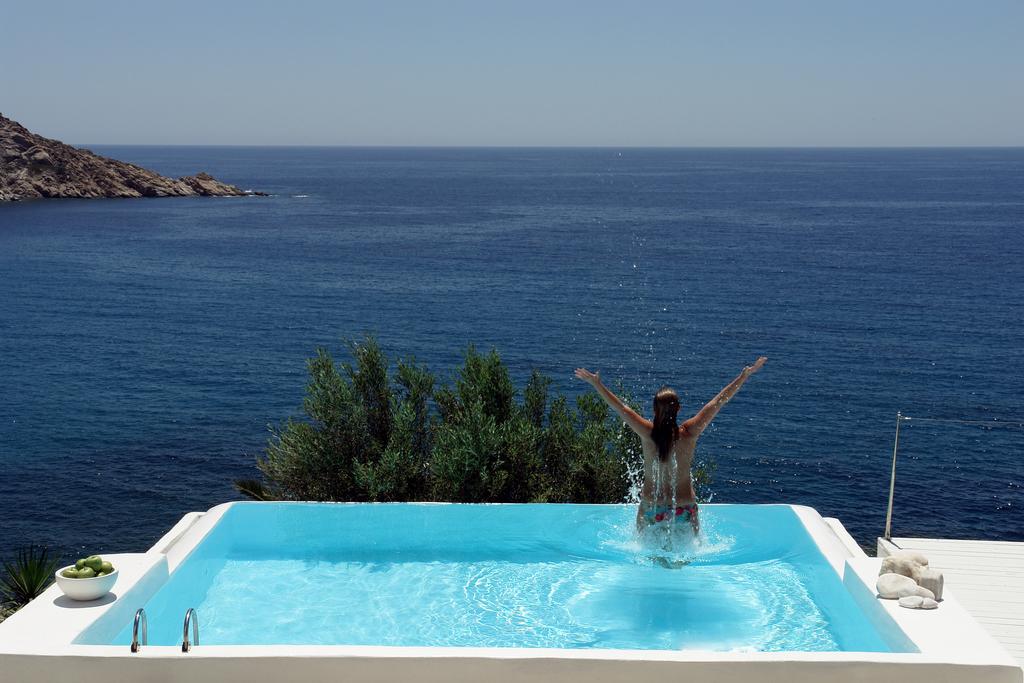 Interior: 75 m² 
Beds: 2 Bedroom areas - 1 Double Bed & 2 Twin Beds
Room Capacity: up to 4 guests
The Master Suite of the hotel is the definition of the terms 'privacy' and 'isolation'. The suite is located at the top level of the complex and this is how it deserves its exclusive views to the big blue from the private veranda but also through the large windows at the living room space. There are two bedrooms at your disposal, one of them with a king sized bed and the other with two single beds. Also, you will find two bathroom areas with a tub and a shower, as well as a fully equipped kitchenette where you can take full advantage of the personal chef service of the hotel. The suite's most surprising highlight must be the designer furniture by Philippe Starck which do remind us that "detail" will always bear importance.
ALL ROOMS FEATURE:
Veranda with sea view

Double or Twin bed

Bathroom with shower

Air conditioning

Bath amenities

Cable-Satellite TV

Daily Maid Service

Direct dial phone

Refrigerator

Safe Deposit Box

Complimentary Wi-Fi Internet access 
All SUITES FEATURE:
Double or Twin bed

Bathroom with shower

Living room

Air conditioning

Bath amenities

Bathrobes & slippers

Cable-Satellite TV

Daily Maid Service

Direct dial phone

Refrigerator

Safe Deposit Box

Complimentary Wi-Fi Internet access 
BARS & RESTAURANTS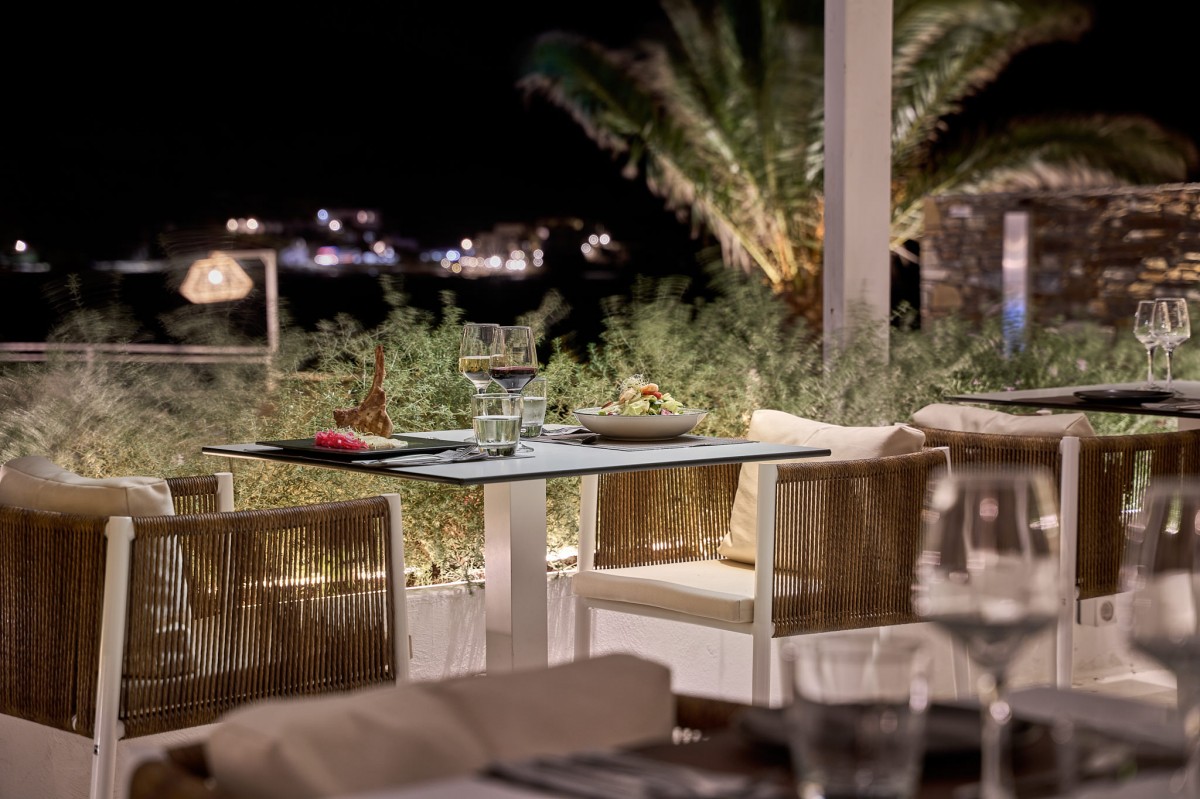 Tomatini Restaurant is your poolside paradise of authentic Greek and Mediterranean tastes at Ios Palace. Overlooking Mylopotas bay, our a la carte restaurant serves local and Mediterranean summer specialties, as well as the most delicious tastes of the island. Satisfy your senses and enjoy the casual romantic atmosphere.
Our buffet is inspired by the Greek traditional breakfast and offers a rich variety of local tastes and biological healthy delicacies, for our guests who wish to remain fit even during their holidays. Enjoy our authentic buffet breakfast with homemade breads, our tantalizing Greek traditional pitas and a variety of fresh juices all made from pure ingredients. Plus, the glorious vistas to Mylopotas beach will definitely upgrade your Greek breakfast experience.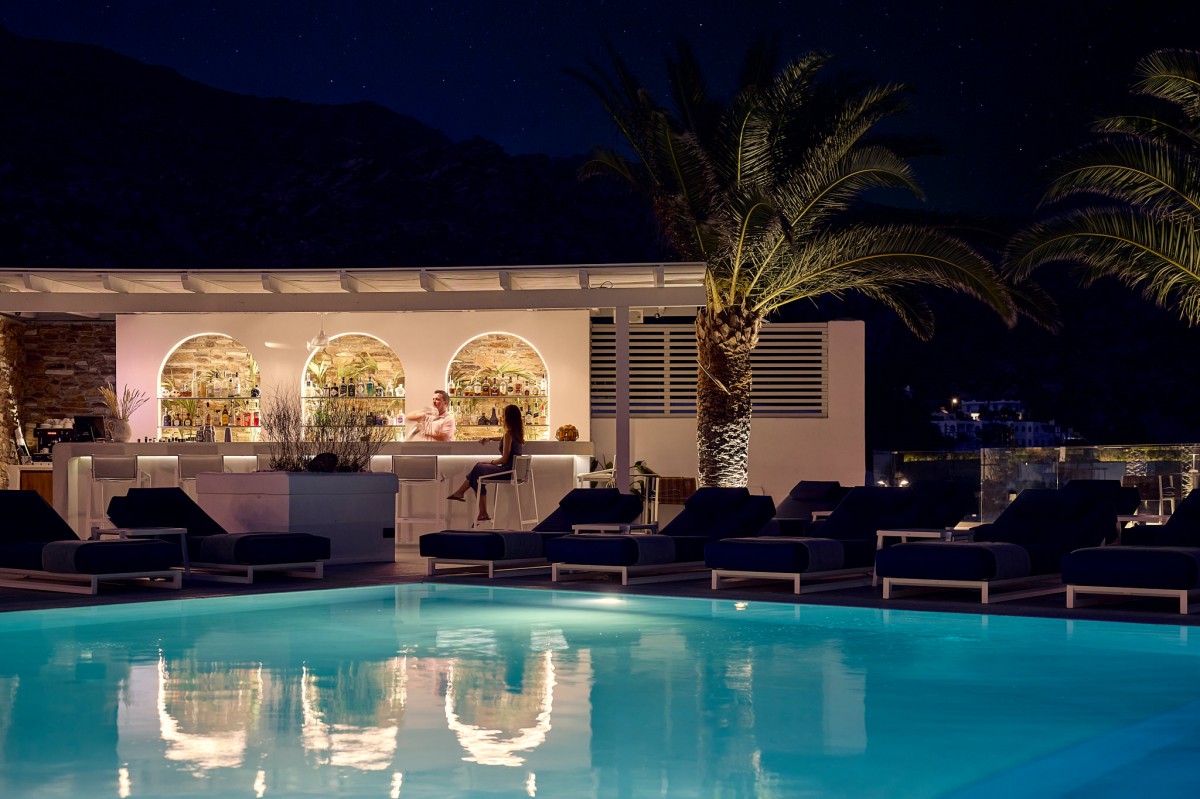 Every summer day is a pool party day at Ios Palace. During day time or when the sun goes down, Tomatini Bar is located next to the swimming pool and is the ideal spot for your chill-out drinks and cocktails accompanied by lounge music. Be part of the cosmopolitan atmosphere and create unforgettable summer memories by the pool. This will be an experience not to be forgotten at Ios Palace.
BEACH & POOLS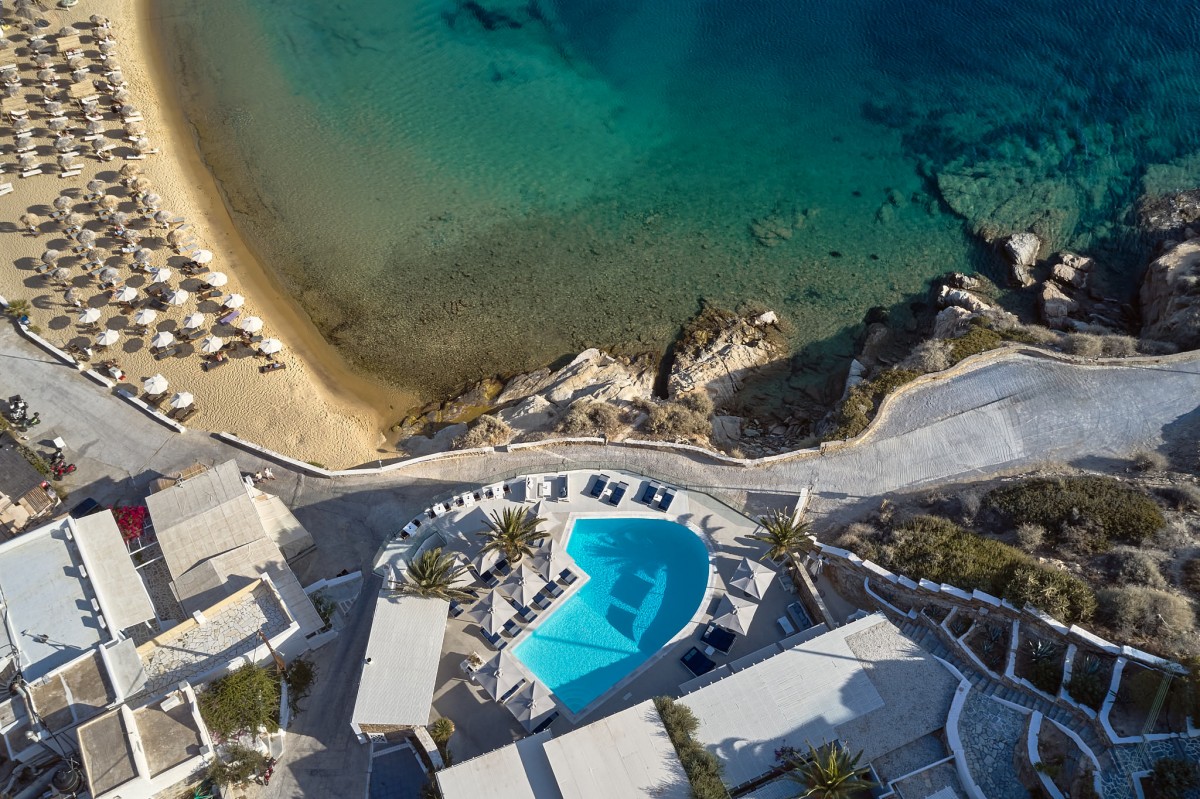 Mylopotas beach is the most visited beach in Ios Greece, located close to the main village, Chora. This is a long white beach with sunbeds for rent but also with some large and unexploited areas to lay your towel on for free. You will find many restaurants and drinking holes along the beach.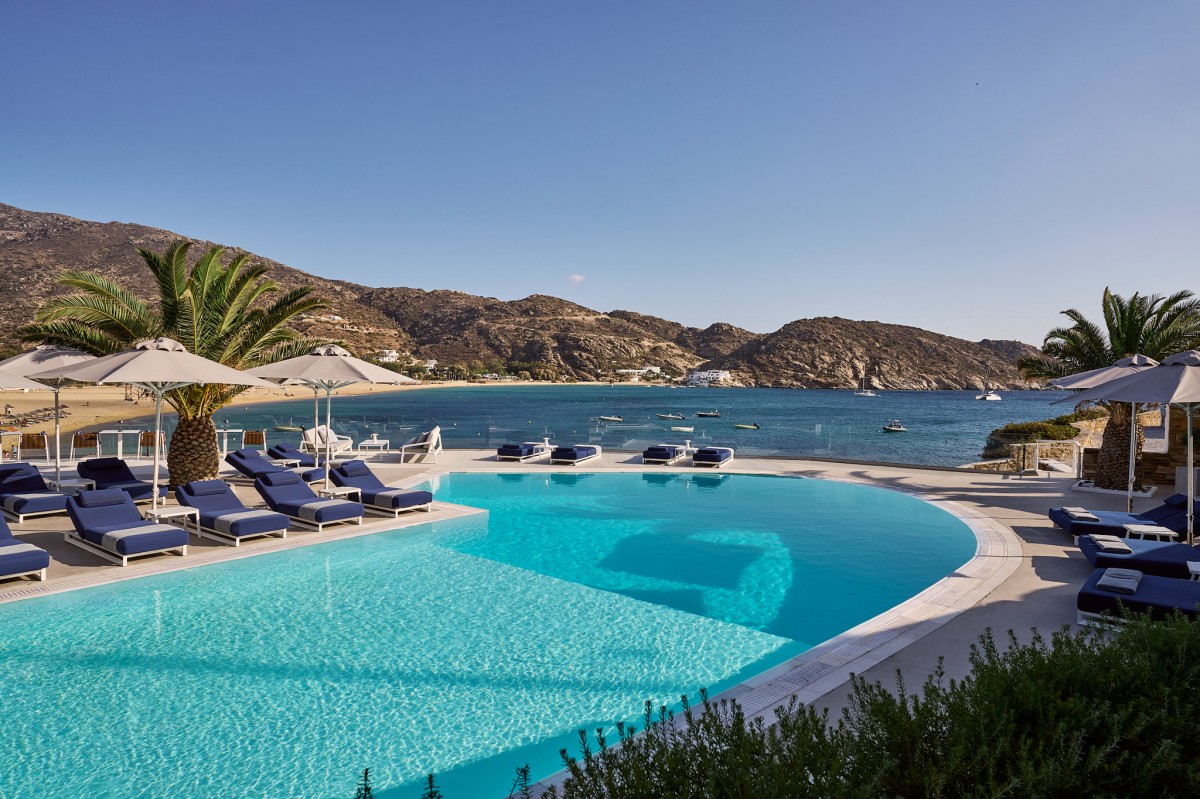 Location Beach Level                                                                       
Lower pool 170 m2                                                                                 
Depth 3.00                                                                                                      
Water Filtered Sea Water                                                               
Closest Bar Tomatini                                                                
Operating Hours 10:00-19:30                                                   
Location Upper Leve              
Upper pool 70 m2                                                                                        
Depth 2.00                                  
Water Filtered Tap Water                 
Closest Bar Upper PoolBar                                                   
Operating Hours 10:00-19:30          
Location Spa
Spa pool 40 m2               
Depth 1.20         
Water Filtered Tap Water               
Closest Bar  Relax Bar    
Operating Hours 10:00-19:30
POINTS OF INTEREST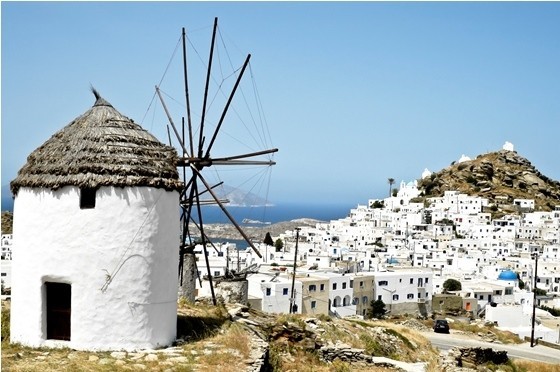 Ios is one of the most popular destinations in Greece, attracting thousands of tourists from all over the world. Mainly famous for its vivid nightlife, Ios island is known as one of the best party islands in Greece! Indeed, the Ios party scene isn't just about the clubs and bars, it is a way of life. Surprisingly enough, Ios is also a great destination to kick back and relax. Stroll around the cobblestone alleys of Ios Chora, discover its cliff-top villages, climb up to Odysseus Elytis theater to marvel at a breathtaking view to the endless Aegean sea, watch the sun sink towards the horizon from Panagia Gremiotissa church or visit Homer's grave, one of the most significant historical monuments of the island. Ios is undoubtedly a multidimensional destination.
Mylopotas Beach 30 m
Yialos Beach 2.1 km  
Kolitsani Beach 

1.1 km

     
Homer's Tomb 4.9 km
Psathi beach 6.9 km
Monastery of Agios Ioannis 8.2 km
Manganari Beach 9.4 km
Tris Klissies Beach 9.6 km      
OTHER SERVICES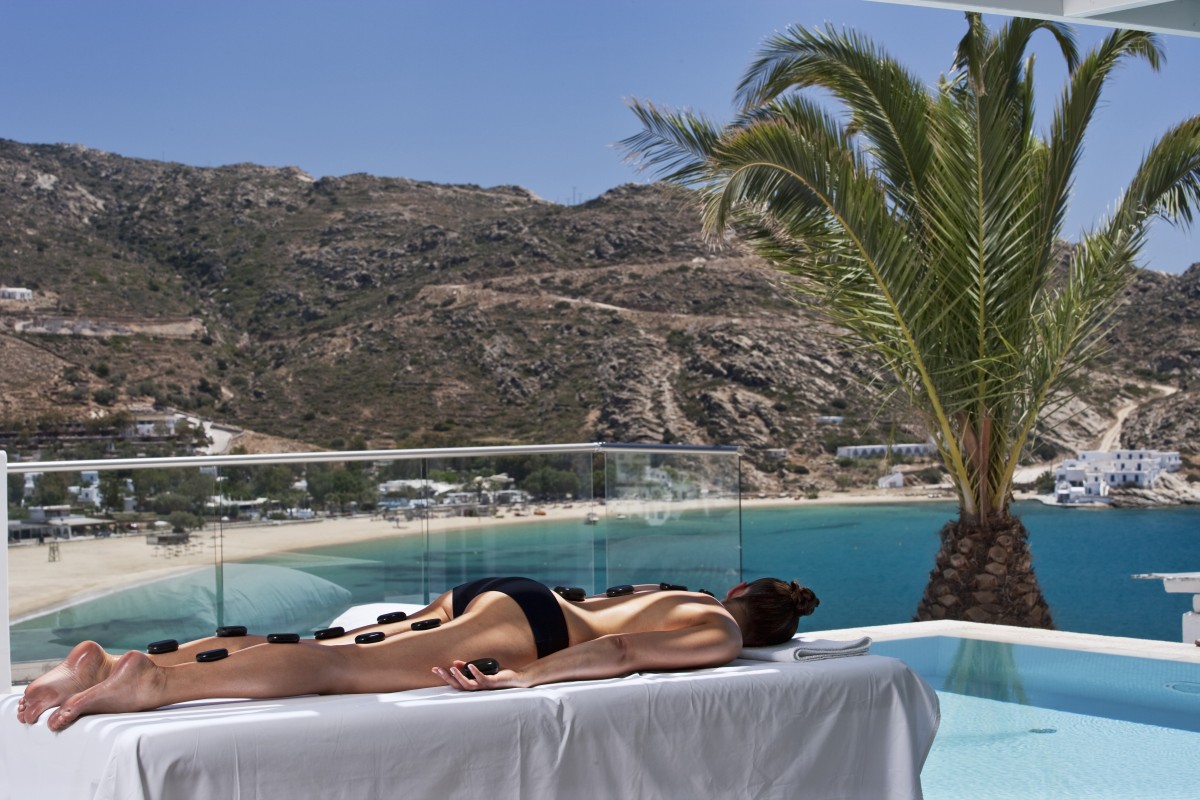 THERAPIES OF THE EARTH: Made with the purest native plants, flowers and fruits, each treatment has been developed with the profound wisdom of ancient Aboriginal medicines, spirituality and healing modalities.
THERAPIES OF THE SEA: They are based on the superbly hydrating, fortifying and nutrient rich qualities of Marine Plant Collagen, Organic Tasmanian Sea Kelp, Australian Mother Of Pearl and 100% Pure Essential Oils.
SENSES OF GREECE THERAPIES: The exclusive treatments "Sense of Greece" of Ios Palace Wellness Club invite you to improve your health and wellness level with ingredients derived from the ancient Greek civilization.
Ios Palace Hotel & Spa in cooperation with Holmes Place, the biggest Premium Wellness Brand in Greece, offers a unique fitness experience, with a view to Mylopotas. Have an extraordinary training experience at the indoor gym, offering all the necessary equipment, including treadmill, bike, elliptical, as well as TRX®, Bosu and Fit balls and the outdoor personal training spaces of Ios Palace, under the guidance of your Holmes Place Trainers.
Ios Palace Hotel & Spa can offer its luxurious touch and services to the most important day of your life. If you are planning a wedding, please allow our talented team of experts to guide you every step of the way. Whether you envision an intimate affair with close friends and family or a fairy tale celebration in the elegant atmosphere of our hotel we will be delighted to make your dream come true.
The luxurious Ios Palace Hotel & Spa on Mylopotas beach, fulfills every need of a business traveler undertaking to organize any kind of meetings and conferences. More specifically, in our facilities, you can take advantage either of the fully equipped Conference Room "Omiros" with a seating capacity of 120 persons, or of the open-air amphitheater with a seating capacity of 60 persons, with a view of the sandy golden beach. The hotel hall offers a Wi-Fi connection, so you are always connected.
CONTACT INFORMATION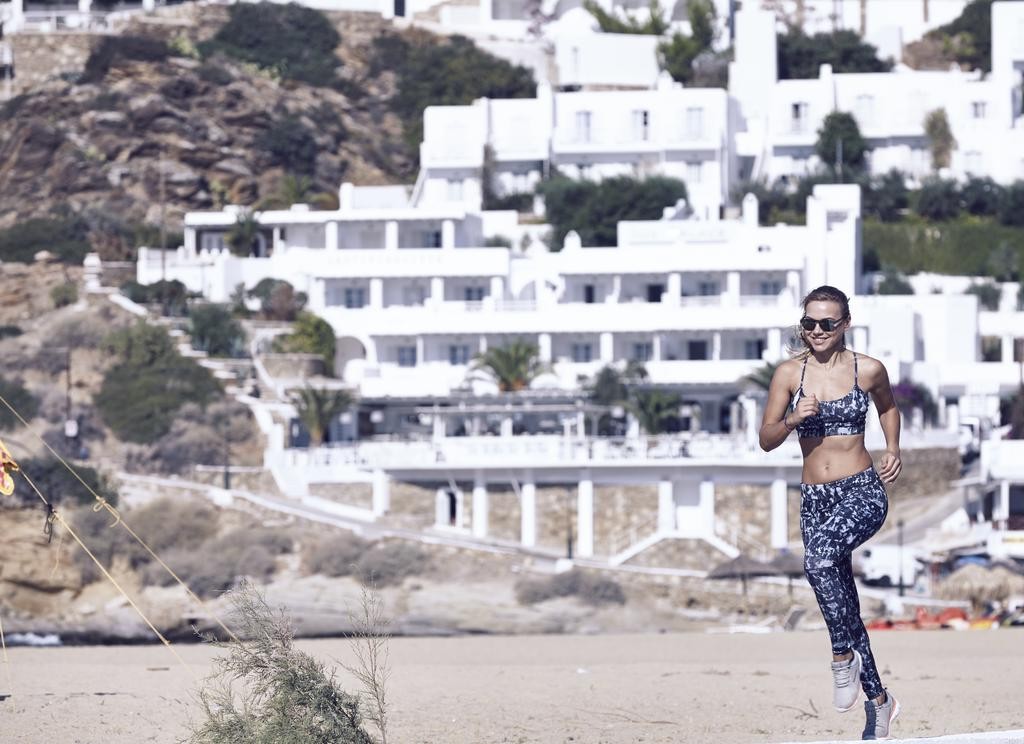 DOWNLOADS